Today's luxury expedition cruise ships have gadgets and gizmos aplenty, including four cruise ships with submarines. Holding from two to six cruise passengers, these subs can dive almost as far as 1,000 feet below sea level and can offer up to nearly 360-degree views of undersea scenery few ever get to see. If you'd like to be part of that world, here's what you need to know about the submarines on these four cruise ships.
Scenic Eclipse
Scenic's first yacht-style expedition ship has a submarine called Scenic Neptune. The six-passenger sub (a U-Boat Worx Cruise Sub 7) is capable of diving up to 984 feet below sea level. Seats rotate 280 degrees and participants can take in the underwater view from every direction through the dual acrylic sphere windows. Tours in the sub -- up to eight a day -- cost extra (several hundred dollars) and last 20 or 40 minutes. (If you're prefer to head up in the air, Scenic Eclipse also has two helicopters.)
Crystal Esprit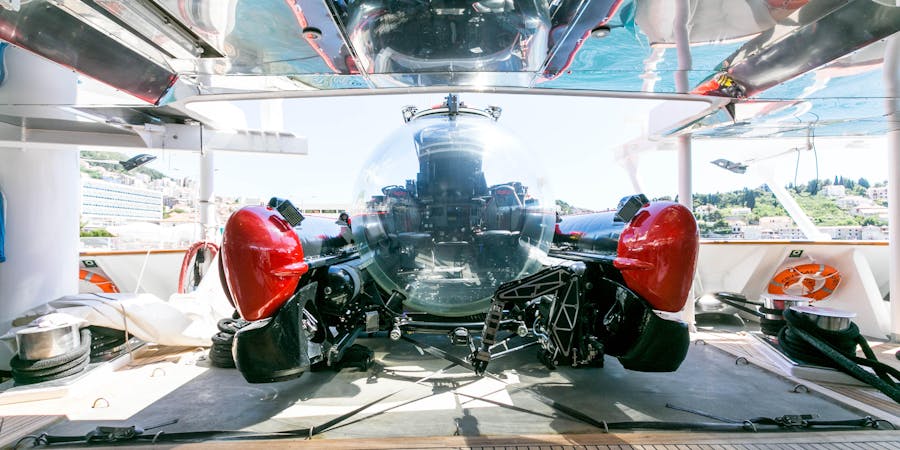 When it debuted in 2015, Crystal Esprit -- Crystal Cruises' 62-passenger luxury yacht -- introduced the world to the concept of a submarine on a cruise ship. Esprit's sub (a C-Explorer 3) can hold three people (the operator and two passengers), descend about 1,000 feet and reach speeds of up to 3 knots. The sub also has a 360-degree Plexiglas hull perfect for reef and marine life spotting. Dives are 20 to 30 minutes long and cost upward of $500.
Featured Videos
NCL's Restart: What It's Like On The First Norwegian Cruise Ship Back in 16 Months
Here's What It's Like Onboard the First Large Cruise Ship to Alaska in 21 Months
Perfect Day at CocoCay: Here's How We Spent 2 DAYS at Royal Caribbean's Private Island
Our Celebrity Silhouette Cruise Experience: March 2020 vs. July 2021
Back on Celebrity Silhouette: Here's What It's Like On One Of Our Favorite Ships 15 Months Later
Celebrity Millennium -- Video Tour & Ship Review (2021)
LIVE: Cruise Critic is Onboard Celebrity Apex -- The Magic Carpet
Q&A: Cruisers and Crew Chat About The Joy of Cruising's Return
LIVE: Cruise Critic is Onboard Celebrity Apex -- Eden
LIVE: Cruise Critic is Onboard Celebrity Apex -- The Retreat
LIVE: Cruise Critic is Onboard Celebrity Apex -- Infinite Veranda Cabins
LIVE: Cruise Critic is Onboard Celebrity Apex -- Your Cruise Director
LIVE: Cruise Critic is Onboard Celebrity Apex -- Pools
LIVE: Cruise Critic is Onboard Celebrity Apex -- Embarkation
Live From Adventure of the Seas: What's the Same, What's Different and What's Better?
5 Reasons MSC Cruises' Yacht Club Is Worth The Splurge
Best Spots For Adults On A Disney Cruise Ship
Video Highlights From The Impractical Jokers Cruise 4 (2018)
Most Exciting Luxury Cruise Ships For 2021 (Video)
How River Cruising Allows You To Explore Like A Local
Inside Look 2018 Ship-Hop: A Cruise Vacation For '90s Lovers
River Cruising: Video Q&A With John Waggoner On American Countess, American Queen Steamboat Company's Newest Ship
The Most Luxurious Cruise Ship Suites at Sea - Video Guide
5 Ways A Seabourn Cruise Will Make You Feel Special - Video Tour
Love Luxury Resorts? Here's Why You Should Cruise Seabourn
5 Best Onboard Spots For Wine And Tapas
5 Crazy Cruise Deck Attractions For the Adrenaline Junkie
Cruise Embarkation Tips: What NOT To Do On Your First Day
MSC Virtuosa Ship Tour: What It's Like Onboard MSC's Newest Ship (May 2021)
Video Scenes From The Golden Girls Theme Cruise 2019
Ritz Carlton Yacht Collection To Debut In 2020
Silversea Cruises World Cruises 2021
The Blue Eye Lounge On Ponant's Explorer-class Cruise Ship
4 Best Places To Get Craft Beer At Sea - Video Guide
Sneak Peek: "Beauty And The Beast" On Disney Dream -- Behind The Scenes Video
The Himalayan Bridge On MSC Meraviglia - Ropes Course POV Video
Sneak Peek: Disney Fantasy Highlights For Kids - Video Tour
7 Can't-Miss Experiences on Allure Of The Seas
Highlights From Regent Seven Seas Explorer
Harmony Of The Seas Pool And Sports Zone
Harmony Of The Seas Boardwalk
Harmony Of The Seas Entertainment Place
Harmony Of The Seas Royal Promenade
Harmony Of The Seas Cabins - Video Tour - Cruise Critic
Cruise Critic Tries The Ultimate Abyss Slide On Harmony Of The Seas (POV Video)
Plunging Into Adventure On The Tallest Slide At Sea: Royal Caribbean Reveals 10-Story Ultimate Abyss
Crystal Cruises' Submarine -- Cruise Critic Tries It Out On Esprit
HRH Prince Phillip Visits Cunard's Fleet
Oasis Of The Seas Flowrider - Cruise Critic Goes Surfing
Oasis Of The Seas Jazz On 4 Performance
Seabourn Venture
Seabourn Venture, the first expedition-specific vessel for Seabourn Cruises, will carry two of the same submarines that Scenic Eclipse has when it launches June 2021, but these will be modified slightly for Seabourn. Just like on Eclipse, the battery-powered subs will carry six passengers, plus a pilot, and will be able to dive to depths of up to 984 feet below sea level while offering 280-degree unobstructed views.
However, these subs will also be outfitted with special technology, including a 4k underwater video camera that will record the seas outside and an internal video recording system that will capture and film passenger reactions to their surroundings. A six-function manipulator arm capable of lifting up to 70 pounds will also be mounted on the side of the sub in case the pilot wants to move or inspect something. Subs will be operated multiple times per day in regions around the world where conditions are suitable; dives will cost extra.
Crystal Endeavor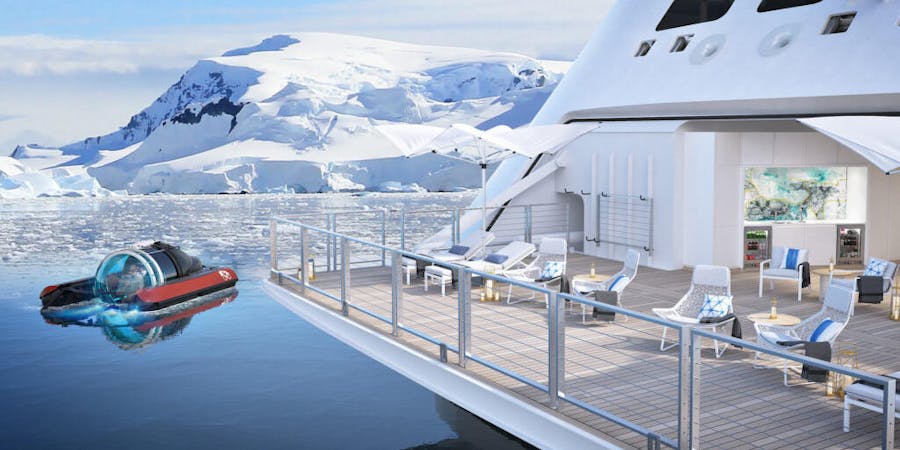 When it launches in August 2020, Crystal Endeavor will be the second Crystal cruise ship with a submarine. The first ship in the line's expedition fleet, Endeavor will offer a submersible larger than the one on Esprit, carrying six passengers (plus the pilot). No further information about the submarine has been released yet.