Romance and cruising would seem to go hand in hand, particularly if you've spotted any of the cruise lines' advertisements showing photos of couples snuggling at the bow at sunset, or sipping orange juice on their private veranda in bathrobes, or even -- and this one we have a hard time believing -- spending time alone on a deserted beach with their mega-ship anchored in the background.
Advertisements notwithstanding, cruising can be one of the most romantic vacation options, but choosing the right cruise line and, even more specifically, the right ship within the fleet, can be a challenge. You don't want that sunset marred by crowds on deck, the romance of a dinner for two killed by the whiny kids at the next table or a cozy evening ruined by cramped cabins with minimal amenities.
For our top picks, we looked at criteria that we would deem universally romantic: ships that offer cabins with private balconies, great bathrooms and extra-special amenities; options for dining a deux; cozy nooks and date-night venues; and almost-private open-deck spaces for relaxing by day and stargazing by night.
Here are our favorite ships for celebrating or rekindling romance with your sweetheart.
1. Princess Cruises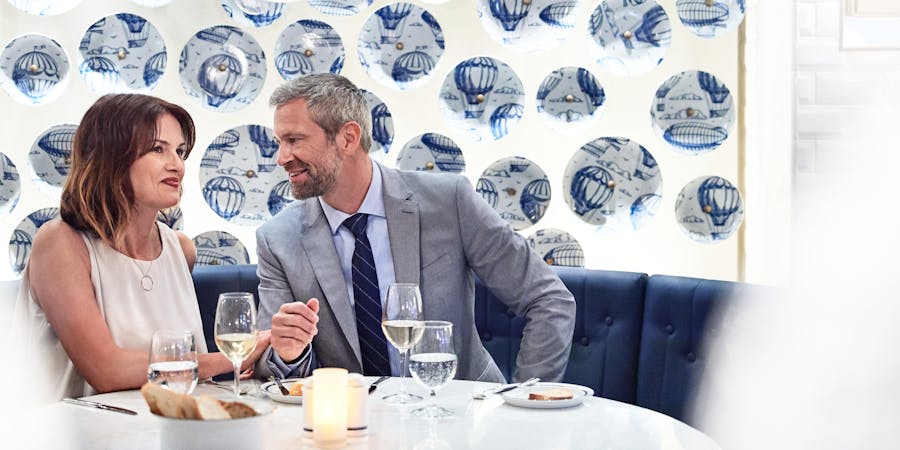 Best Ships: Crown Princess, Emerald Princess and Ruby Princess
The youngest of Princess' Grand-class ships -- Crown Princess, Emerald Princess and Ruby Princess -- blend big-ship options and small-ship cozy. Romance has always been the Love Boat line's focus, but the tiny, charmless balconies and bigger size of its newer Royal-class ships mean that the elder sisters still win in this category.
What could be more romantic than a night at "Movies Under the Stars," reclining on padded loungers while snuggled under wool tartan blankets on the pool deck? Or for quiet tete-a-tetes with your sweetie, try Adagio, a lovely and private top-deck lounge. During the day, we love The Sanctuary, a (mostly) shaded retreat, complete with waiter service and massage offerings (a couples' massage is available).
There are plenty of dining options for two, but the most romantic option is the Ultimate Balcony Dining dinner experience. For an extra fee, cruisers are treated to a lobster dinner with Champagne and course-by-course service. (Or have a romantic breakfast in your cabin with the line's Balcony Breakfast option.) Only caveat: Your cabin must have a balcony.
Featured Videos
Best Spots For Adults On A Disney Cruise Ship
The Most Exciting New Ships In 2021
5 Crazy Cruise Deck Attractions For the Adrenaline Junkie
Cruise Embarkation Tips: What NOT To Do On Your First Day
Inside Cabins On Cruise Ships: Whose Is Best?
Cruise Critic Tries The Ultimate Abyss Slide On Harmony Of The Seas (POV Video)
Here's What It's Like Onboard the First Large Cruise Ship to Alaska in 21 Months
The Most Exciting New Ships In 2021
Inside Cabins On Cruise Ships: Whose Is Best?
LIVE Q&A: Cruise Critic and Emma Cruises Chat About All Things Cruise
We also love the ships' specialty restaurants. Request a banquette at Crown Grill, a steak and seafood restaurant with an open grill; indulge in a multicourse meal at the Italian Sabatini's; or share dishes with your sweetie at Share by Curtis Stone or The Salty Dog Gastropub.
---
2. Paul Gauguin Cruises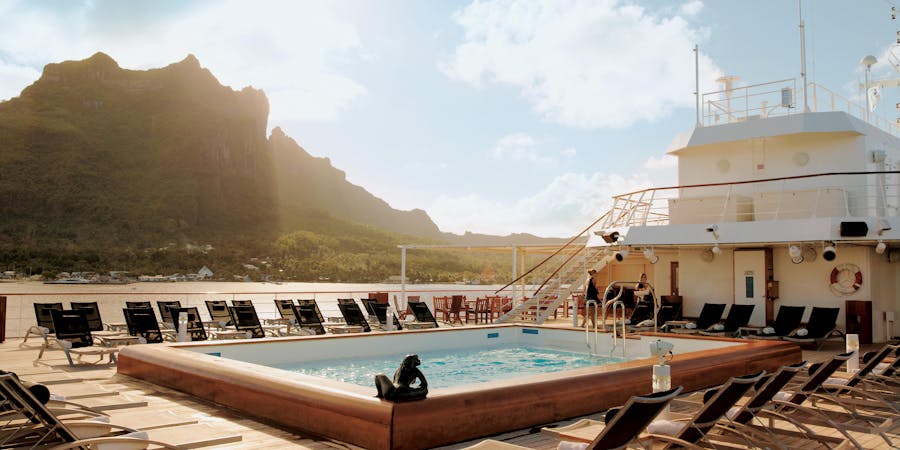 Best Ship: Paul Gauguin
Designed, built and decorated to sail year-round in the romantic South Pacific, the cozy, 332-passenger Paul Gauguin offers an air of tropical festivity. Dining is restaurant-style, the staff is superb and the ship is highly inclusive (cocktails and other beverages are included in cruise fares). But it's the ship's remote and lush island destinations that really turn up the notch on the romantic nature of the trip.
Dance cheek to cheek with your honey to the tunes of a chanteuse in La Palette Lounge, or gaze at the sea or stars from the lounge's top-of-ship vantage point.
For such a small ship, the choice of romantic restaurants is superb. L'Etoile, which offers French cuisine accented with Polynesian touches, serves as the main venue. Couples will appreciate plentiful tables for two. Two casual venues offer indoor and alfresco dining, with reservations-only dinners. And there's always room service for meals in bed or on your balcony.
---
3. Windstar Cruises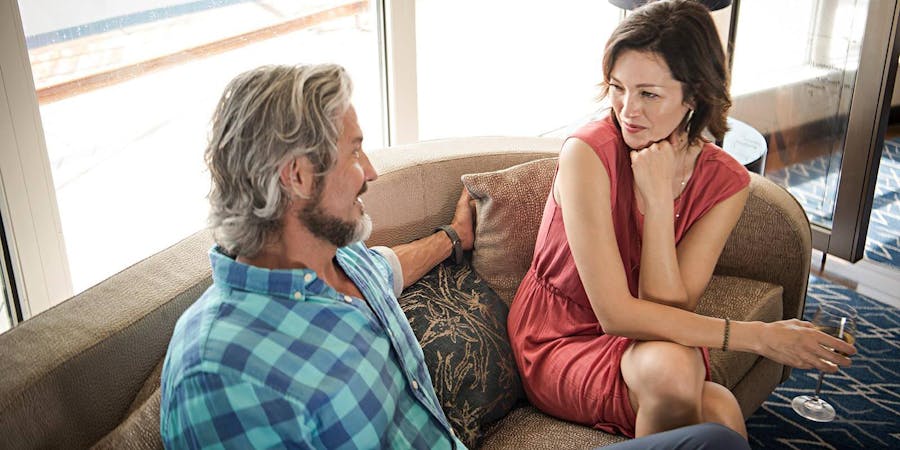 Best Ship: Wind Surf
Wind Surf's both a sailboat and cruise ship, and it features a hybrid blend of cruise traditions (such as the crew show, organized shore excursions and multiple eateries) and utterly romantic vistas. Carrying just 310 passengers, the ship's onboard ambience is relaxed (no set seatings at dinner) and its itineraries focus on ports in the Caribbean, Mediterranean and Baltic that are often too small to appeal to massive ships.
A favorite spot -- and it's remarkably quiet -- is at the outside tables at Wind Surf's cigar bar; it's a great place to sit under the stars (or enjoy a quiet cocktail). If it's too chilly for sitting outdoors, head to the indoor section of the Compass Rose lounge to listen to some pre-dinner music over drinks with your sweetheart.
At night, enjoy a romantic candlelit dinner by the pool at Candles, sample French-influenced contemporary dishes at Stella Bistro or dine in the main restaurant, AmphorA, which features local and creative cuisine.
---
4. Norwegian Cruise Line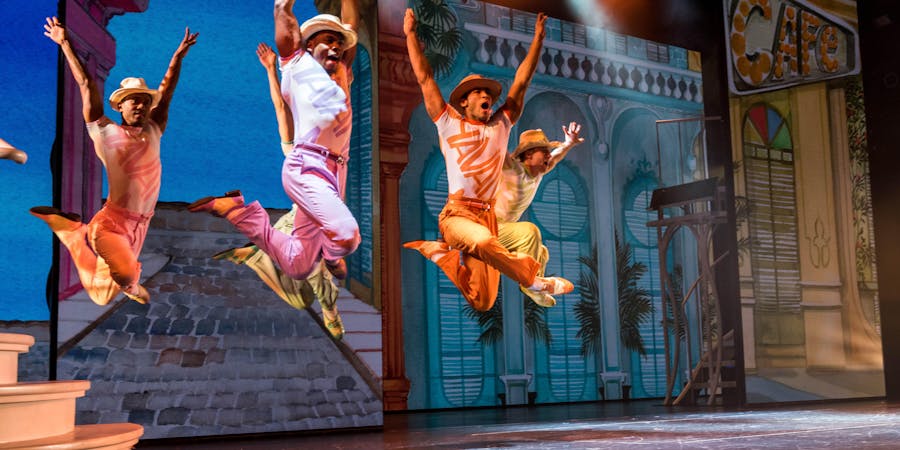 Best Ships: Norwegian Bliss, Norwegian Joy, and Norwegian Encore
Norwegian's "Freestyle Dining" philosophy (passengers can dine without the hassle of assigned times and tablemates at a variety of restaurants) is perfectly suited to table-for-two travelers. We love the line's newest -- but not biggest ships -- which are full of Las Vegas flash and nonstop entertainment action for active couples, while also offering quiet spaces for couples seeking to reconnect.
Active couples can race each other in go-karts and compete to see who can shoot the most zombies (Joy and Encore only). Those looking to relax together can snag side-by-side loungers in the spa's relaxation room, take a dip in the thalassotherapy pool, or lay about in plush chaise lounges with stunning views in the glass-enclosed Observation Lounge.
At night, snuggle up to your honey, cocktail in hand as you take in a Broadway show, or rock out together to a Beatles-cover band in The Cavern Club. Those looking to perfect their salsa together can stop by Sugarcane Mojito Bar for some hot Latin tunes, while those looking to toast a special event can try out a slew of vintages at the Cellars Wine Bar.
Try dinner at Cagney's, the dedicated steakhouse, and Le Bistro, a French eatery. Or share small plates of street food at Food Republic. Afterwards, get two spoons and dig into a massive sundae at Coco's.
---
5. SeaDream Yacht Club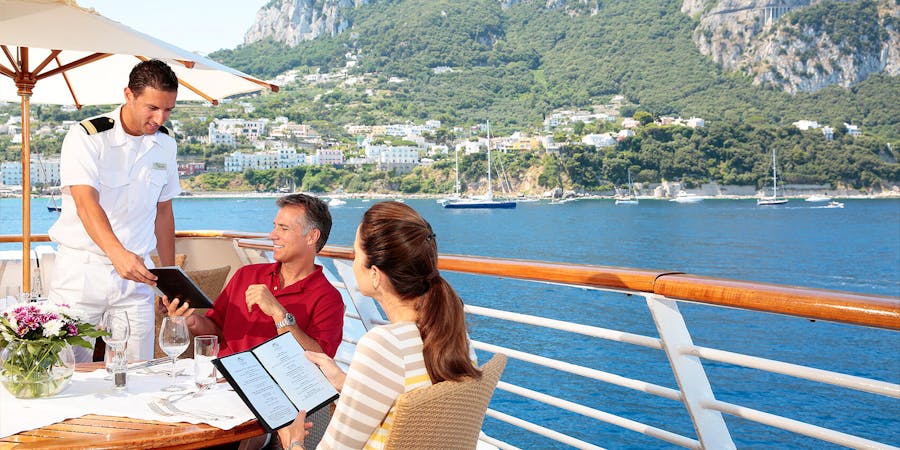 Best Ships: SeaDream I and SeaDream II
These nearly identical 112-passenger yachts win top romantic honors for sophisticated couples who want luxury (phenomenal dining and great service) in a casual ambiance. The ships are gorgeously restored; dining is all as-you-wish; and service is outstanding, personable, attentive ... and subtle. Choose a warm-weather itinerary if you want to spend time playing with the ship's water toys offered from its onboard marina.
Our favorite place for sunset-timed port departures is on one of the Balinese beds on the top-most deck. Tucked around the smokestack, they are built just a bit above the deck railing, which gives you a sense of floating above the water. (You can also reserve one for a night sleeping under the stars.) We also loved the Top of the Yacht bar for after-dinner drinks to a soundtrack of live music.
Our favorite spot for romantic dining is the Topside Restaurant; it's an open-sided outdoor eatery (covered, though, so shaded) and there are a handful of wonderful and private nooks.
---
6. Celebrity Cruises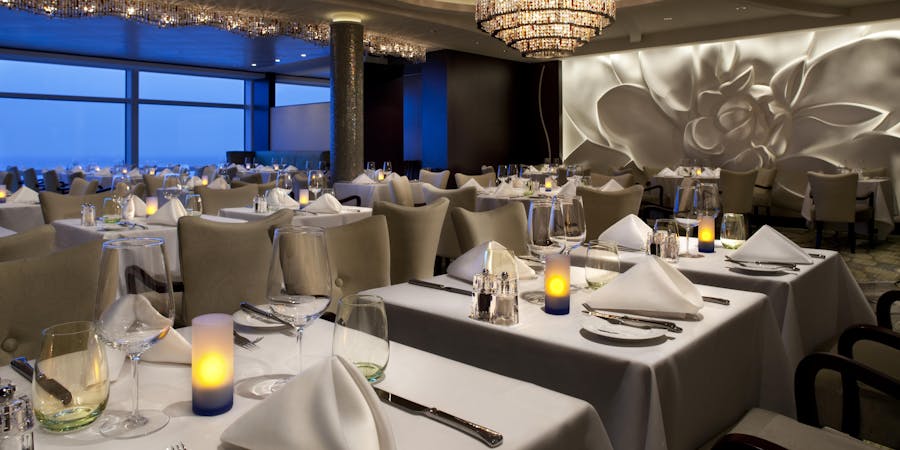 Best Ship: Celebrity Solstice, Equinox, Eclipse, Silhouette and Reflection; Celebrity Edge and Apex
Celebrity's Solstice- and Edge-class ships are sophisticated and hip, and cater to couples on adult getaways, rather than families on holiday. Plus, there are plenty of onboard spaces tailor-made for parties of two -- from wine bars to multiple specialty dining venues, double pool loungers, and, on the Solstice-class ships, top-deck lawns perfect for picnicking. On Celebrity Edge and Apex, couples can snuggle up to the acoustic tunes of a live band in the Rooftop Garden.
It's easy to rekindle the romance with a picnic for two in the Lawn Club, a real grass lawn on the Solstice-class ships' top decks. Or hide away in a corner of the Deck 4 wine bar or martini bar on Solstice-class ships or the atmospheric Eden lounge-cum-performance space on Edge-class ships, and get a little tipsy with your loved one. The pool deck and adults-only Solarium also have cozy double sunbeds for snuggling in the sun.
With so many top-notch specialty restaurants onboard, any table for two will do for a romantic night out. On Solstice-class ships, our favorite for couples is Murano, the upscale Continental restaurant offering both tasting and a la carte menus with luxe dishes like caviar, escargots, sweetbreads and foie gras. Or, for dinner with a view, dine early at the back-of-the-ship Tuscan Grille, an Italian steakhouse with a wine country feel.
On the Edge-class ships, Fine Cut Steakhouse is the spot to celebrate an anniversary or just enjoy a fancy night out together.
---
7. Regent Seven Seas Cruises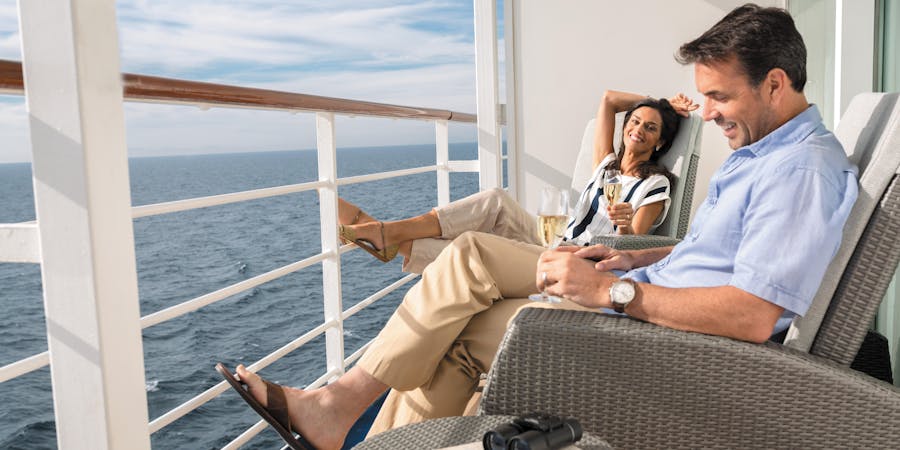 Best Ship: Seven Seas Explorer
You can't go wrong with the "Most Luxurious Ship Ever Built," an all-suite, all-balcony vessel that features personal service, gourmet cuisine and the most-inclusive cruise fares of the major luxury lines. You don't have to worry about lover's quarrels over the price of shore excursions, which pre-cruise hotel to book or how many drinks to order -- it's all covered by your cruise fare.
Head to the gorgeous spa and gym area to get a little sweaty together (personal training for two?) and then relax in the back-of-ship infinity pool or heated ceramic loungers. Or visit the Observation Lounge for 180-degree views by day and cocktails and music by night. If you like learning together, sign up for a cooking class at the Culinary Arts Kitchen.
It's easy to get a table for two on these ships, even in Compass Rose, the main dining room. For date night, try the pan-Asian Pacific Rim, modern French Chartreuse or the Prime 7 steakhouse -- you'll need to make reservations for these popular venues but there's no fee.
---
8. Crystal Yacht Cruises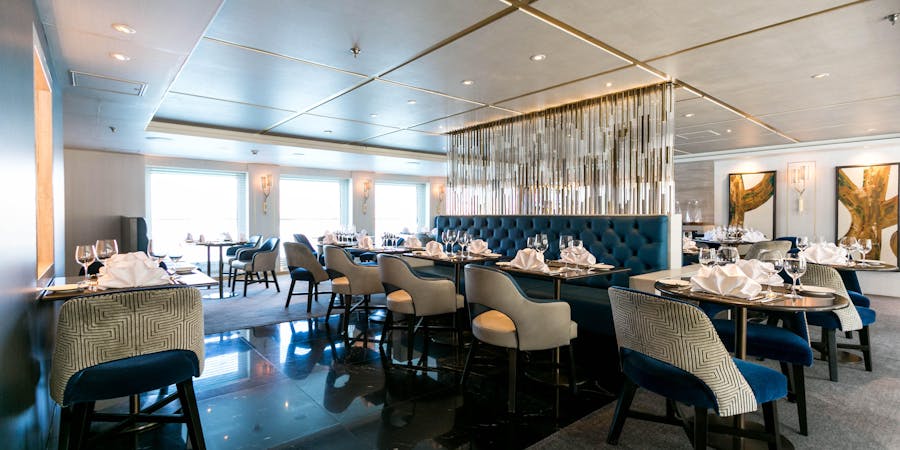 Best Ship: Crystal Esprit
If you want to sample the high life, where days are spent lounging on a day bed in the sun with a drink in hand, swimming and snorkeling or touring the more yacht-y ports, Crystal Esprit beckons. The 62-passenger yacht is also incredibly high-tech, carrying Jet Skis and a three-person submersible; cabins loaded up with state-of-the-art technology; and even an outdoor flat-screen TV for movies under the stars.
Most couples spend their time splashing in the water or enjoying complimentary tours during the day. If you're onboard, you're likely to be found cuddling on a Balinese bed or dipping your toes in the plunge pool. At night, catch a flick on the outdoor screen, or get social in The Cove, the ship's living room with live music and bar service.
The elegant Yacht Club Restaurant is the only dinner venue onboard but you won't have trouble snagging a table for two and will be spoiled for choice with a regular menu and special four-course menu offered each evening. For total privacy, order room service off the Yacht Club's menu and take date night back to your cabin.
---
9. Azamara Cruises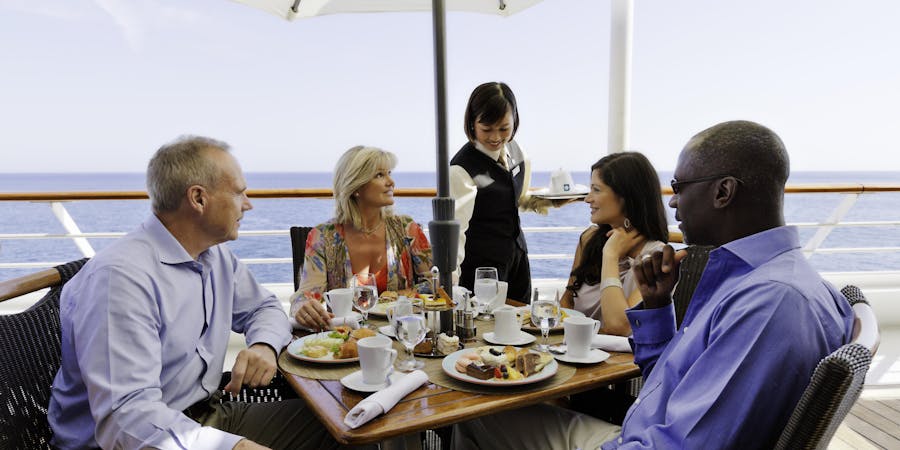 Best Ships: Azamara Journey, Azamara Quest and Azamara Pursuit
Azamara offers three, nearly identical, intimate ships and a destination focus, so you can bond with your loved one over new experiences and incredible adventures ashore. The line will constantly hand you opportunities for memorable date nights with its Nights and Cool Places after-dinner excursions and complimentary, once-a-cruise AzAmazing Evening shoreside event. The onboard atmosphere is geared to adults, so your vacation-for-two won't be disrupted by unruly rug rats.
Take your partner for a whirl with ballroom dancing in the Cabaret Lounge, or for the ultimate in romance book the Nights in Private Places package. For one night, you'll get the aft spa deck all to yourself. A private butler will serve a candlelit dinner, you can float in the thalassotherapy pool while gazing at the stars, and then spend the night snuggled up on the canopied daybed, done up in fine linens. Just be sure to slip your robe back on when the butler comes to serve breakfast in the morning.
Tables for two are not hard to come by in Azamara's main, open-seating restaurant, but for a more intimate repast, book into one of the specialty restaurants, the Prime C steakhouse or the Italian Aqualina. Special event meals not to miss include a jazz brunch, Officers' BBQ with suckling pig and barbecue ribs and the White Night dinner served on deck.
---
10. Viking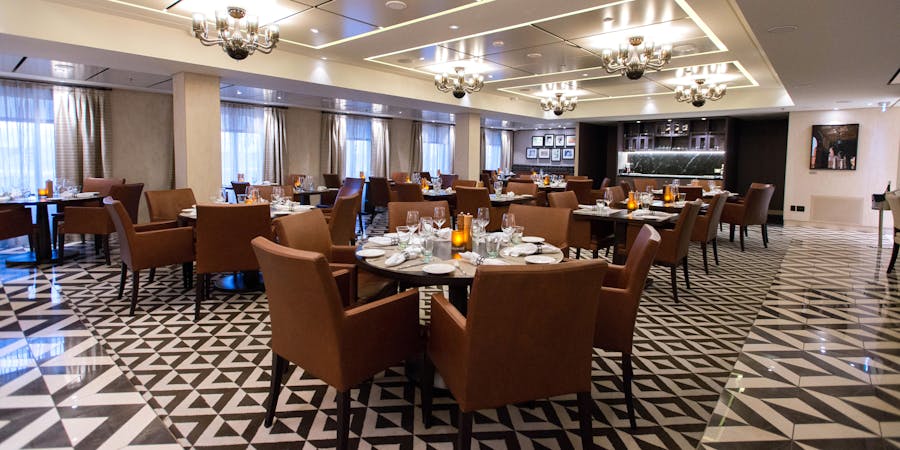 Best Ships: Viking Jupiter, Viking Orion, Viking Star, Viking Sea, Viking Sky and Viking Sun
With beautiful sun decks and a huge Nordic-inspired spa, Viking's six nearly identical ships are ideal for couples who love to relax...after a hard day of touring in port. The line's destination focus includes jam-packed itineraries, late nights and overnights in port and included shore excursions. Well-appointed cabins, included Wi-Fi and wine with meals, multiple dining venues and a no-kids-under-18 policy seal the deal.
During the day, relax in the light and airy, glass-enclosed Wintergarden Conservatory and take your honey to tea for finger sandwiches and scones in the late afternoon. Or lounge by the all-weather main pool, with retractable roof, or aft infinity pool. A cool drink is never far away. At night, camp out in Torshavn, to dance, enjoy a cabaret show or sip Armagnac in a dark corner.
The mouth-watering food at Manfredi's will start your date night off right. The Italian venue is complimentary and offers an expansive Italian menu. If your style is more casual, check out the sushi bar in the World Cafe buffet or the cured meats and bacon-and-pea soup served faux-fireside at Mamsen's.