While many cruisers have their first glimpse of Alaska only through bigger ports such as Ketchikan and Skagway, there have always been those who want to take the route less traveled through the Inside Passage. Enter small ships. Able to dock in isolated bays and tiny cities like Petersburg and Wrangell, small ships provide more intensive -- and usually more expensive -- ways to explore Alaska's coast.
Life onboard an Alaska small ship, which typically carries fewer than 100 passengers, is a far more relaxed experience than you find on a standard cruise. You wake up to the sound of birds instead of noise from the balcony next door. Your days consist of kayaking or hiking, rather than shopping and taking helicopter tours. Evenings are spent reading in your room or listening to a naturalist talk. And there's no need to buy a new cocktail dress, although you might spend just as much on outdoor gear.
Fortunately for adventurous travelers eager to embark on Alaska expeditions, several cruise companies offer these intimate, nature-focused experiences. Even better, the lines are expanding their fleets, as well as their itinerary and excursion offerings. Here's a look at Alaska's small ship cruises and where they're going.
Alaskan Dream Cruises
Owned and operated by a family of native Alaskans,
Alaskan Dream Cruises
specializes in voyages that have strong community and cultural components. (The Allen family are members of the Tlingit Kaagwaantaan Clan.)
Alaskan Dream Cruises operates a fleet of six small, expedition-style ships. Alaskan Dream, the ship, carries 42 passengers; Admiralty Dream has cabins for 66 people; the 143-foot Baranof Dream carries 49 people and Chichagof Dream has capacity for 74 passengers.
The Sitka-based line's smallest expedition vessels, Misty Fjord and Kruzof Explorer, carry 12 passengers each. Misty Fjord features a hull modeled after that of Alaskan commercial fishing boats. With the exception of the smaller vessels, each ship has lounges for happy hours, as well as post-dinner lectures and programs.
The ships sail five itineraries plus a special family-focused cruise called "Become a True Alaskan" that features an onboard Youth Expedition Leader. An adventure series with more active options includes a five-night sailing through the Alaskan wilderness in the spring.
Ports of call could include the larger cities of Ketchikan, Skagway and Haines, as well as Thorne Bay, Kasaan, Wrangell, Gustavus and Glacier Bay. Town stops include historical walking tours and cultural performances and demonstrations, while nature stops offer hiking and wildlife-viewing. Land extensions to Denali are available.
---
American Cruise Lines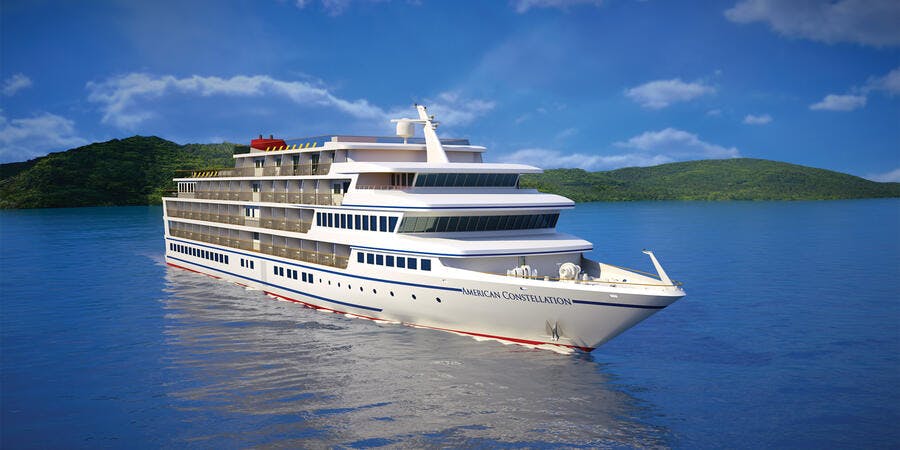 American Cruise Lines
operates cruises in numerous areas of the country, and its Alaska offering includes Inside Passage and Southeast Alaska sailings. The line has traditionally drawn an older crowd more interested in ports than adventure, and its Alaska sailings are heavy on narrated boat, coach and walking tours.
American Constellation
, built in 2017, carries 175 passengers through Alaskan waters. Most of the staterooms have private balconies and rooms range from 226 to 450 square feet --  they're billed as being among the largest in the Alaska arena. There's elevator service to all decks, a boon for seniors.
Round trip sailings out of Juneau, or between Juneau and Seattle, could include stops in Glacier Bay, Icy Strait Point, Petersburg, Sitka and Tracy Arm.
---
UnCruise Adventures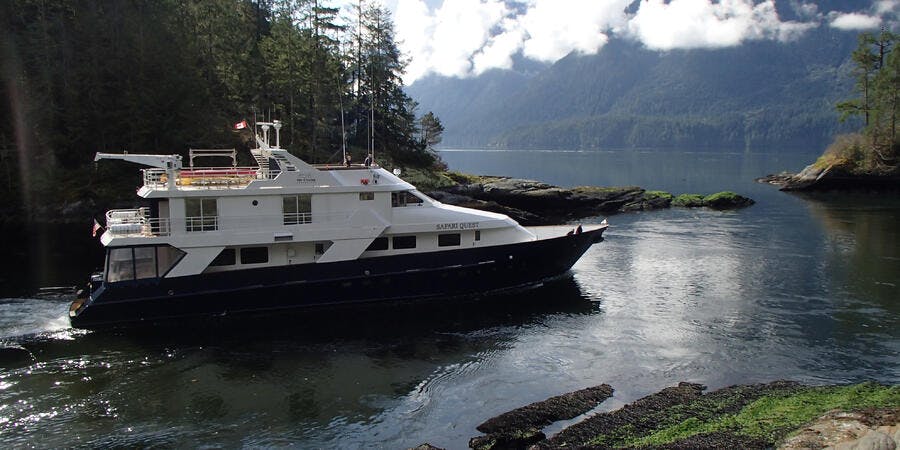 Headquartered in Seattle,
UnCruise Adventures
offers sustainable small-ship expeditions focused on local culture, regional cuisine and nature. The larger ships in the line feature built-in docks for kayaks and standup paddleboards, while the smaller yacht-style ships include drinks and a spa treatment in the fare.
The line has nine ships; six of those offer Alaska itineraries. Seventy-six-passenger Wilderness Discoverer, 60-passenger Wilderness Adventurer, 74-passenger Wilderness Explorer, 90-passenger S.S. Legacy, 84-passenger Safari Endeavour and 22-passenger Safari Quest (a 120-foot yacht) all have kayaks, standup paddleboards and hot tubs onboard.
Safari Quest is the smallest and most intimate of UnCruise's Alaska fleet, with a 2:1 guest-to-crew ratio, plus luxuries such as heated bathroom floors.
Uncruise offers one of the longest Alaska cruise seasons in the industry, with departures called "Alaska Awakenings" in April, and sailings through September. 
Most of the cruises sail between Ketchikan and Juneau, between Sitka and Juneau, or round trip from Juneau, though roundtrip from Petersburg and departures from Seattle are also on offer. The line doesn't do many typical "port of call" stops, but ships might visit Wrangell, Misty Fjords and Tracy Arm. In addition, the line offers a post-cruise Denali package that departs from Fairbanks.
---
Windstar Cruises
Based in Seattle,
Windstar
operates a fleet of six cruising yachts (three masted and three motor) that sail all over the world. The line offers an upscale experience in Alaska with expedition elements on its Inside Passage sailings.
Windstar positions just one ship in Alaska during the summer,
Star Legend
, which holds a little over 200 passengers, and carries several Zodiacs and kayaks for up-close exploration of remote fjords. A five-person expedition team leads kayak and Zodiac tours (for an extra fee), and offers regular lectures about Alaska, its people, flora and fauna.
The outer decks on Star Legend, particularly those at the front of the ship, offer plenty of scenic viewing opportunities. There's elevator service to all decks except the sixth.
Itineraries vary in length from 11 to 28 days and mainly sail between Seward and Vancouver or roundtrip from Vancouver, with some options for a pre- or post-cruise visit to Denali National Park or the Canadian Rockies. Stops might include Ketchikan, Misty Fjords, Tracy and Endicott Arms, Kenai Fjords, Wrangell, Metlakatla, Juneau, Haines and Icy Strait Point. A select sailing departs from Yokohama, with the option to cruise a segment from Japan and the Aleutian Islands to Seward.
---
The Boat Company
Michael McIntosh started
The Boat Company
in 1979 as a nonprofit educational organization. What does that mean? A portion of the fare is tax deductible, and your trip will have a strong emphasis on conservation.
The Washington-based company has two small ships, 24-passenger Mist Cove and 20-passenger Liseron. Both come with fishing equipment, so this might be your top choice if you want to spend a significant amount of time reeling in the day's catch. Past passengers have reported that the onboard chefs will cook your catch, and cleaning, packing and freezing your fish is included in the cruise price. (Orvis, the fly-fishing outfitter, occasionally sponsors trips.)
An open bar, all shore tours, hotel accommodations and airport transfers are included in the price.
The ships cruise between Sitka and Juneau, stopping for nature activities at places like Admiralty and Brothers islands, with glacier-viewing at Tracy or Endicott Arms along the way. There are no traditional port calls on these cruises; your time is almost entirely spent on the water, with stops for hiking, wildlife-viewing and from-land fishing.
---
Fantasy Cruises
Based in Seattle,
Fantasy Cruises
is owned and operated by Jeff Behrens, who also acts as the cruise line's captain for its one vessel, Island Spirit. (His wife, Catherine, is onboard as cruise director.) The ship has a naturalist in residence, and a hummingbird feeder onboard is a good place to practice your nature photography skills.
Island Spirit carries up to 32 passengers. It has a panoramic top deck observation lounge, and each stateroom has a window that opens for fresh air. The ship is the only U.S. Coast Guard-licensed small ship allowed to use batteries to power its public areas at night. That means Island Spirit can turn off its engine at night to preserve quiet. (Using battery power also reduces the ship's carbon footprint.)
Itineraries include cruises between Sitka and Petersburg, as well as Juneau round trips and repositioning cruises heading up from Seattle. Stops include Dawes Glacier, Tenakee Springs and Baranoff Warm Springs on Baranoff Island.
---
Lindblad Expeditions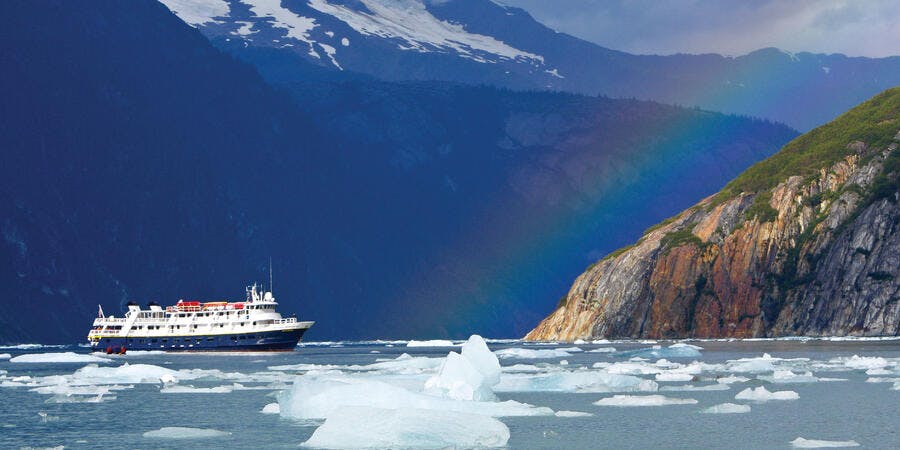 Lindblad
, a cruise company that has partnered with National Geographic since 2004, pioneered the expedition-style cruise several decades ago, and it remains a leader in the field of naturalist-led travel. You'll find not just one or two naturalists onboard these cruises, but four or five. Plus, many of the line's itineraries feature a team of professional photographers onboard to help you snap the best possible shots.
The Lindblad Alaska fleet includes four ships. The 62-passenger Sea Bird and Sea Lion have been with the line since 1981, but are still well suited to long and short Alaska itineraries. The larger, newer
National Geographic Quest
( added in 2016) and
National Geographic Venture
(launched in 2018) carry 100 passengers apiece. Purpose-built for expedition cruising, Quest and Venture were designed with special touches including a shallow draft and state-of-the-art twin expedition craft landing platforms for getting out into the water for even closer encounters.
Lindblad's Alaska ships are known for being family-friendly, with more children onboard than similar small ships -- discounts are offered and programming is spot-on. (Although this type of vacation isn't a good choice for kids who need their electronics; you're out of cell range the majority of the time.)
From just 6 days to more than two weeks, Lindblad offers a unique mix of itineraries in the Last Frontier. If you have five nights in Alaska, sail Sitka to Juneau or Juneau to Ketchikan. Seven nights adds a more in-depth looks at Glacier Bay, along with Lindblad's signature stop in the Inian Islands, where wildlife is rich. Sail the Inside Passage from Seattle to Sitka on the line's 15-day journey with stops in Alert Bay and Haida Gwaii. Lindblad's latest Alaska itinerary runs the "Russian High Arch" over 12 nights from Nome through the Pribilof Islands to Seward with stops at Katmai and Kodiak.
---
Maple Leaf Adventures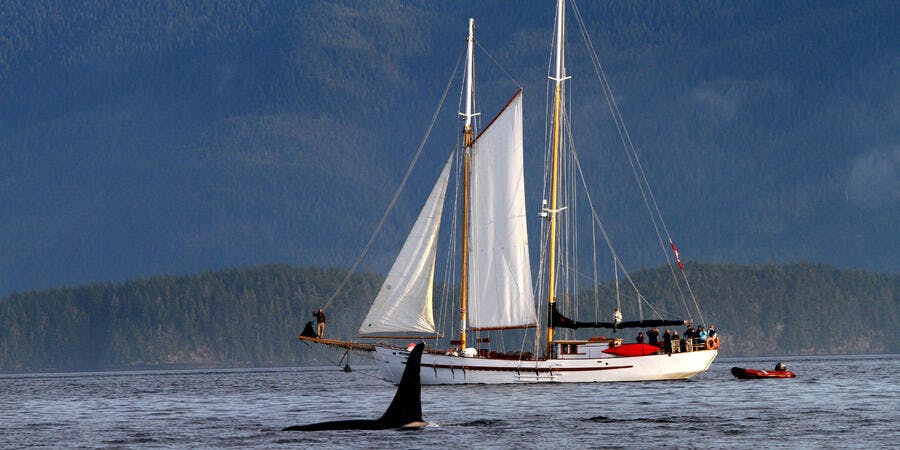 Since 1986, Maple Leaf has been operating sailing cruises in British Columbia, the Queen Charlotte Islands (Haida Gwaii) and the Alaska Inside Passage. On
Maple Leaf's fleet
of three vessels, expect an even more intimate experience than on a regular small ship, and a program that is full of First Nation history.
The 92-foot-long Maple Leaf schooner can carry eight passengers and four or five crewmembers. Instead of cabins, a sleeping area has large bunks with walls on two and a half sides and thick, heavy curtains on the rest. Bathrooms are shared. The ship has two inflatable boats for shore excursions and wildlife-viewing.
Swell, a unique 88-foot converted tugboat, carries up to 12 guests in six private en-suite cabins. The classic wooden construction of the vessel has been maintained, and cabins are paneled with wood. There is a hot tub on the aft deck.
Cascadia is a 24-passenger catamaran with a crew of 10, offering a dozen cabins in boutique-cruise style. The ship is 138 feet with a lounge, terrace, dining area and open bridge policy, as well as kayaks for passenger use.
On the line's 10-night Alaska Supervoyage itineraries, Swell travels between Prince Rupert (British Columbia) and Sitka, and between Sitka and Ketchikan, with stops at Baranof, Kruzof and St. Lazaria islands. Maple Leaf has a permit to bring its cruisers to the Pack Creek bear-viewing area on Admiralty Island. Maple Leaf also offers eight-night Inside Passage voyages between Petersburg and Sitka, and between Petersburg and Prince Rupert.
---
Ponant Cruises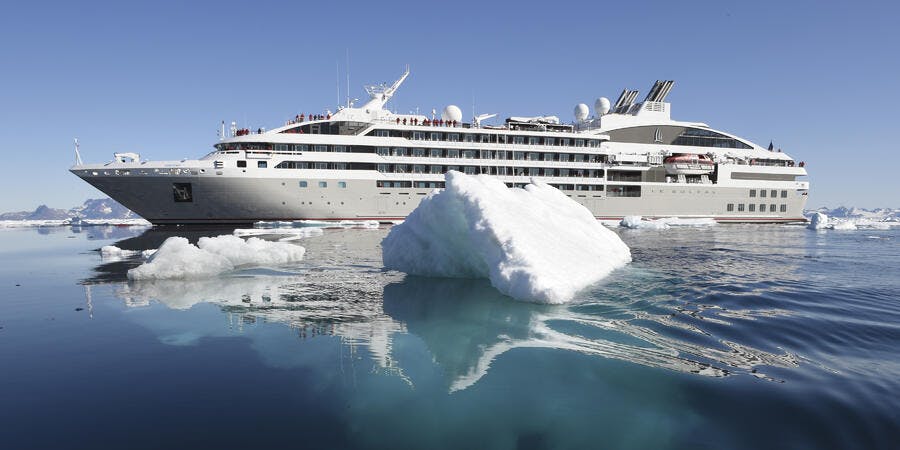 Ponant is a French line with a reputation for interesting itineraries; Alaska is among them. The onboard atmosphere is elegant and decidedly French, and the line's shore program is robust -- key when considering a cruise in Alaska.
Comfortable
Le Soleal
and
L'Austral
offer room for 264 passengers each in cushy suites -- a luxury typically reserved for larger ships in Alaska. 
They sail seven- to 12-night itineraries through Alaska, many with roundtrip flights included. Itineraries have names like "Trail of Gold Prospectors" (Juneau to Vancouver) or "Magnificent Volcanoes of the Aleutian Islands," starting in Russia and calling on Unalaska and lesser-known islands and coves of Alaska before docking in Juneau. Ponant also offers a 22-night Northwest Passage cruise.