Here's a sneak peek at some of the most popular TV and film theme cruises. The specific sailings listed on this page offer a snapshot of some of the options, but they are not meant to make up a comprehensive calendar. Check online for updates on specific cruises, and be aware that some theme sailings sell out quickly.
Golden Fans at Sea
The Golden Girls sail again in 2022! If you lived through the '80s with Blanche, Rose, Dorothy and Sophia, you'll want to relive those golden years with a "Golden Girls" theme cruise.
 offers a sailing onboard Celebrity Apex from the Girls' hometown of Miami to Key West and Cozumel. Betty White will not be onboard, but events include a panel discussion but a 100th Birthday Bash for the star will be held, along with a musical performance by the Golden Gays NYC, a caftan-and-cheesecake party, Q&A with one of the original TV show writers, bar crawls, drag parodies and more.
Dates: January 3, 2022
Star Trek: The Cruise V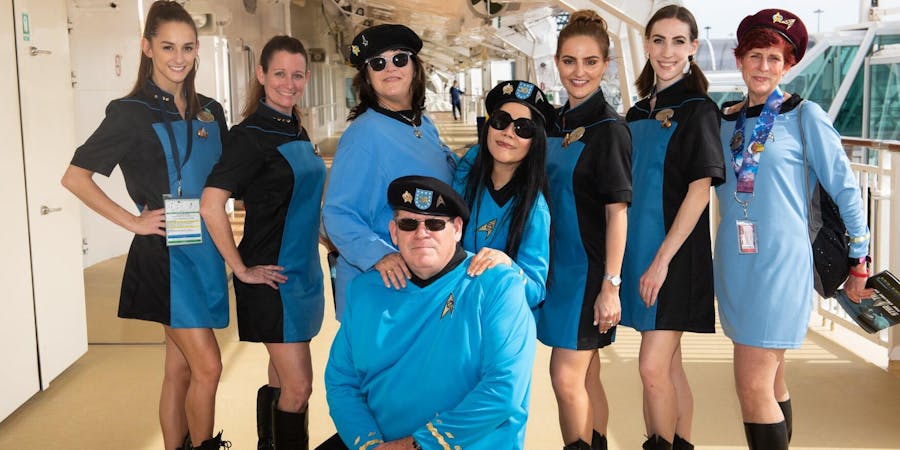 Trekkies can celebrate all things Star Trek on the annual
, with a ship full of stars from Kate Mulgrew and William Shatner to Jeri Ryan, Ethan Phillips, Jonathan Frakes, Brent Spiner and John deLancie. Your Enterprise for the week will be Royal Caribbean's Mariner of the Seas, and it will boldly go from Port Canaveral, Florida to Nassau, St. Maarten and San Juan.
Featured Videos
Video Highlights From The Impractical Jokers Cruise 4 (2018)
Inside Look 2018 Ship-Hop: A Cruise Vacation For '90s Lovers
Video Scenes From The Golden Girls Theme Cruise 2019
Best Spots For Adults On A Disney Cruise Ship
Here's What It's Like Onboard the First Large Cruise Ship to Alaska in 21 Months
The Most Exciting New Ships In 2021
Cruise Critic and JJ Cruise : Our Experience Onboard Celebrity Edge (June 2021)
NCL's Restart: What It's Like On The First Norwegian Cruise Ship Back in 16 Months
Inside Cabins On Cruise Ships: Whose Is Best?
Cruise Embarkation Tips: What NOT To Do On Your First Day
 Onboard events include nightly shows with the celebs, star-led game shows and other activities, Q&A sessions and a scavenger hunt. Your favorite "Star Trek" actor might even lead your shore excursion in port. Delayed from 2020 and 2021 due to the coronavirus pandemic, the 2022 sailing is sold out, but a waitlist is available.
Dates: February 26, 2022.
TMC Classic Cruise
Ever reminisce about drive-in movie theater date nights with your sweetie? The official 
 is your ticket back to the good ol' days, which saw some of the most iconic movies ever made. TCM primetime host Ben Mankiewicz will set the stage for six nights of classic films, interactive panels from special guests yet to be revealed, and ample opportunities to unwind under the Caribbean sun.
The cruise -- departing roundtrip from Miami -- will take place onboard Disney Cruise Line's Disney Dream, sailing to Grand Cayman and Castaway Cay.
The voyage was moved from 2020 to 2021, then 2022, owing to the ongoing coronavirus pandemic.
Dates: November 12, 2022
Learn more about theme cruises: