July 21, 2011 | By Dan Askin | 5 Comments
Sandwiched between cranes and containers is a brand-new Hamburg-er, the 122,000-ton, 2,884-passenger
Celebrity Silhouette
, which will be christened shortly in the German port. After three hours onboard the fourth Solstice-class ship, a few things are clear: Silhouette smells like waffles, it's awash with (great) beers, and the price of feeling grass between your toes at sea has gone up.
The New Lawn Club: Grilled Meats, Private Cabanas and Giant Chairs.
Snagging real estate on Silhouette's grass-covered, top-ship area has gotten more expensive. The Lawn Club Grill, a $40-per-head combination culinary classroom and restaurant, replaces the extra-fee-free hot-glass show found on
Solstice
,
Equinox
and
Eclipse
. (I'll be dining at the grill tomorrow evening, so stay tuned for a report.) Eight alcoves — clam-shell cabanas with their very own bushes — line the Lawn Club's port and starboard sides, occupying prime space where barefoot sun-seekers can set up towels on Silhouette's three older sisters. Alcove rentals, which include fruit, water, use of an iPad and few other amenities, are $99 during port days and $149 during sea days. Unfortunately, they're already reserved by the likes of the Bushes, Obamas, Roosevelts, Reagans and four other presidential families chosen by a witty crewmember. It's still free to spy on the alcove and Lawn Club Grill occupants, preferably from the vantage of one of two upsized Adirondack loungers. I smell a photo-op.
The Floating Ficus.
Silhouette's atrium tree, which hovers between the mid-ship glass elevator bank, is a Solstice-class staple (the giant pot has changed). New to the ship is the hideaway, referred to as "the tree house" both for its location and its second-floor seating arrangements, which look a bit like wicker prisons. The Hideaway replaces Green Earth, an interactive environmental exhibit, a space that has elicited shrugs and "ehs" from whomever I ask about it.
The 64-Beer Michael's Club Challenge.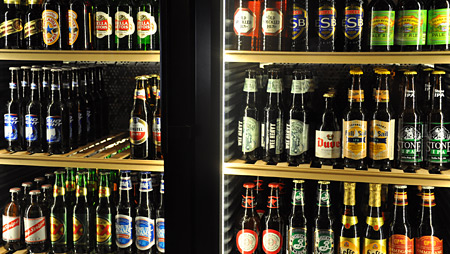 It's the end of an era. Michael's, the clubby scotch-and-cigar venue found on every Celebrity ship, has morphed into a bastion for beer snobs (and cruise writers who are beer snobs). Celebrity is aiming to capitalize on micro-brewed beer's rising star, and there are 60-plus bottled ales, stouts, ciders and lagers (but only two ho-hum options, Heineken and Amstel, on draught). I've sampled Budweiser and Amstel Light, part of a strategy to eliminate the usual suspects early. A scheduled "tasting" event this evening should help me reach my goal of sampling all 64. How can you accurately report, sir, if you do not try?
The Ship Smells Like Waffles and Crepes.
The open central atrium links Silhouette's indoor hub — which means the scent of cooking waffles from the ship's gelataria and crepes from its creperia are free to waft. It's almost as if Celebrity is pumping the drool-inducing smell through the ventilation system. It's the type of scent that seeps in the subconscious … and makes you want to go pay $5 for crepes at Bistro on 5.
Finishing Work Continues.
With just a couple days before journalists and travel agents get the boot and paying customers board, the crew is engaged in much buffing, polishing and painting. Cafe al Bacio, the ship's coffee and pastry venue, is 99 percent complete. The last job involves a worker applying protective stencils so he can bling up the gold signage.
Silhouette has some company. Check out more than 2,600
Celebrity Cruise reviews
.
Join in on the fun.
Subscribe to the Lido Deck
and we'll let you know when there's something new up our sleeves.
Comments